Sharing the Impact of an Impact Loan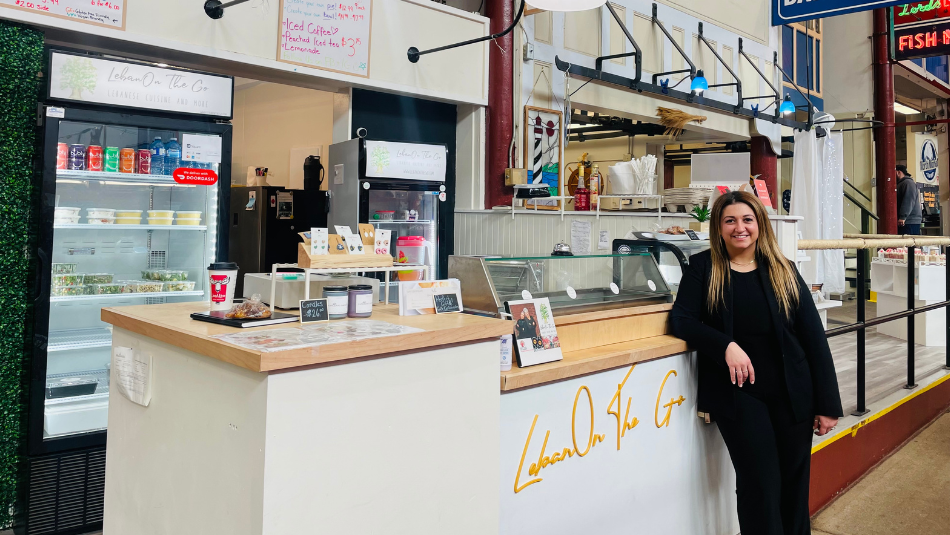 Entrepreneur Brings Family Heritage to her Community
Deanna Dempsey has always known she wanted a career that allowed her to help her community. Following her high school graduation, she moved to Miramichi to study Social Justice: Police Foundations at NBCC, but Deanna was drawn back home to the Saint John Region when she started her family. It was during the COVID-19 pandemic where her mindset started to shift, and her entrepreneurial spirit was born.
Her passion to open a culinary business arose from her experiences around the dining room table with family – and although she shares how she has zero entrepreneurial blood, she was determined to bring her heritage to her community.
"Growing up, I spent so much time with my grandparents, and we always were cooking together," Deanna explains. "I would hear everyone talk about my grandmother's cooking all the time, and I thought 'there's no way that everybody's just being nice, people must really like this food'."
Deanna can't hold back her smile as she reflects on her grandmother's recipes that now shape her business – LebanOn The Go. As fifth generation Lebanese, she has been able to not only share her heritage through her business but has also grown her connections with the Lebanese community in her hometown.
Serving up traditional salads like Tabbouleh and Salata, appetizers such as their famous Fatayers and hummus and main dishes and treats – LebanOn The Go is also constantly adapting to meet the needs of their customers – most recently switching to Halal meat.
The business model for LebanOn The Go has grown as well. What started as a take-out offering, merged into retail sales, with products available in franchises like Second Cup and Simply for Life. But it was through Envision Saint John: The Regional Growth Agency's Impact Loan, that Deanna was able to bring her vision to life and open her first storefront in the Saint John City Market.
"If it wasn't for Envision and the team, I would not be where I am today," Deanna explained.
She shares how Envision Saint John's Director of Growth Craig Wilkins has been a lifeline and resource that has allowed her to make connections and find solutions to her evolving business needs.
Deanna has recently travelled to Toronto and Montreal to explore the world of licensed kitchens on a national scale. She wants the business to grow as she grows in her entrepreneurial journey.
"People might look at me and think getting my business off the ground was easy," Deanna says. "I want them to know, I have definitely had struggles – but every struggle gives me motivation to keep pushing and finding ways to learn and expand."
Her advice for other entrepreneurs starting out is to lean into resources that are available, such as the Impact Loan and start-up support through Envision Saint John, and to also not underestimate the value of networking.
"Everything is a networking opportunity," she Deanna says.
"Anything you do, anybody you talk to – it's a networking opportunity. There could be that one random person you know from high school, and you haven't seen in years, but they're the owner of the next place that you want to go to, and then you have a connection because you networked when you didn't even know you're networking."
To learn more about LebanOn The Go visit their website: https://lebanonthego.com/
If you're an entrepreneur looking for resources or access to capital, click here: https://www.envisionsaintjohn.com/startup-supports/
Related Post