From Crosby Molasses Co to Crosby Food Co: The Evolution of Crosby's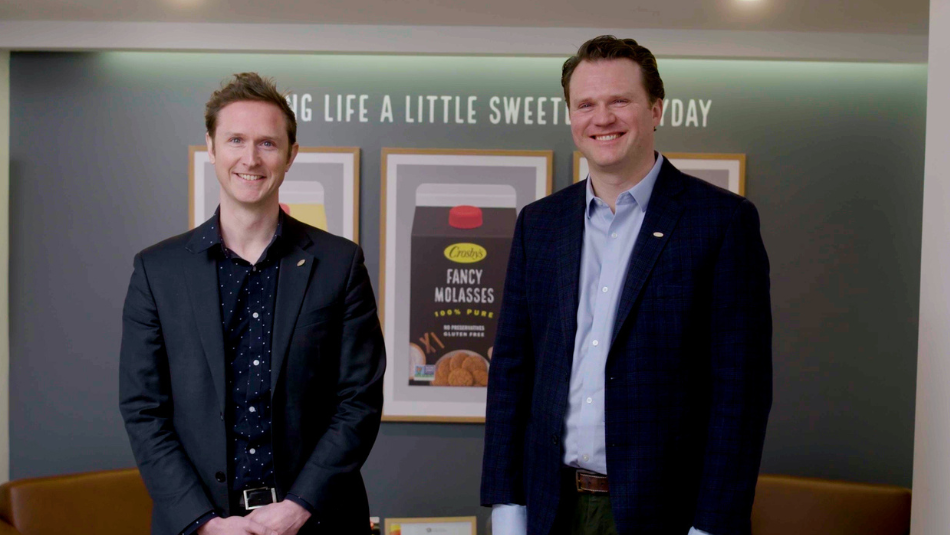 William and James Crosby
The Crosby name has been a staple in family pantries for decades. For some it may bring back memories of a special holiday treat, or the unique ingredient in grandma's secret sauce. But beyond the slow and sweet molasses that people around the world have come to love, Crosby's is a business that continues to evolve and move forward – a global headquarter working to create innovative solutions and globally grow from right here at home in the Saint John Region.
James Crosby, President of the multigenerational family business was born and raised in the region, and although he grew up being aware of the company and his father's work, it wasn't until university when he first got on the payroll.
"My first job was actually mowing lawns, and I worked at the YMCA for a couple of summers doing Day Camps," James shared. "It wasn't until I got a summer holiday from university that I actually started working in the business. Initially, I worked the night shift packing sugar. I worked in the plant for a couple of summers, and then I also worked at our bulk storage facility on the West Side for a couple summers."
He explained how all his different work experiences added value and lessons to his role today, leading the company not only in day-to-day operations – but also looking ahead to the future.
Headquartered on Rothesay Avenue in Saint John for more than a century, the smell of sweetness is prominent when you walk through Crosby's doors today. From marketing, to production, a laboratory, test kitchen, packaging, quality control and more – the work that takes place within this facility is beyond what people may realize as they drive by the building that has been Crosby's operational home in the community for generations.
The Saint John Region's port is also a big part of Crosby's story. For decades the company has sourced their premium fancy molasses from a single sugar mill in Guatemala. To lessen their impact on the environment, Crosby's molasses is shipped directly to Saint John by ocean going freighter. In doing so the company is able to ensure food safety and security, shorten the supply chain, and reduce carbon emissions.
James shares how his father's passion and commitment to the company is contagious. He never felt pressure that this had to be his future, it was more of a natural fit from learning the business from the ground up.
"My father would be at the pier when we would receive our ships. He would be there to oversee that whole process," James said. "Whenever a ship arrived, he would be there to meet it. There's a whole bunch of activities that are involved in in offloading the vessel, so he would always be very present for that."
For James, the special milestones are the ones when the innovative ideas come to life, and the people are growing and developing along with the company.
"When we are creating value for customers, and our people are all aligned and going in the same direction, and I can see that they're growing as leaders, and we're helping our customers grow. That's the most rewarding part," he said.
As Crosby's moves forward for the generations to come, James shares how branching out beyond molasses is a focus.
"Our company is known as Crosby Molasses Co Ltd, but we really are undergoing a transformation to a more diversified food company," he said. "We are changing the name of our business to the Crosby Food Company. While molasses is our core business, and it's what we were founded on, we're trying to look at our core competencies and capabilities and that's importing liquid products in bulk as well as dry blending and packaging."
With a bulk tank farm on the city's West Side, James said Crosby's is in the breakbulk business, which is bringing in ingredients in large quantities. Whether that's by ocean vessel, rail car, or truck.
And the Saint John Region is the perfect place to grow, as strategic global gateway offering an intermodal transportation and logistics hub with three class one rail lines and highway system, all located one hour from the United States border.
"We currently take different bulk ingredients, and we mix them together to create different food products," James explained. "So, we have the capability of blending with both liquid and dry ingredients. As far as our growth opportunities go, we're looking to further expand our contract manufacturing business, and also focus our product development efforts on products that are better for you and better for the planet. "
Crosby's future focus is being a stronger collaborator and a driver of innovation.
From YMCA Day Camp Counseller, to a Queen's University student spending summers packing sugar, James Crosby shared how each experience has provided him valuable lessons that he uses today as President of a global company.
"We are pretty unique in that we have a manufacturing footprint right here and in Saint John, and we have the ability to serve not only the Canadian market from here, but also the United States," he said.
As the company moves forward, they are excited to continue to grow from right here, at home.
"I'm obviously biased because I grew up here, and I choose to live here today, but I just think this a great community to grow up in and to raise a family," James said. "I think you can really have an excellent quality of life, and I hope we're able to attract younger people. I hope they can see that this is a place for opportunities and growth."
Related Post