First Nations Storytellers – Sharing Indigenous Culture in the Saint John Region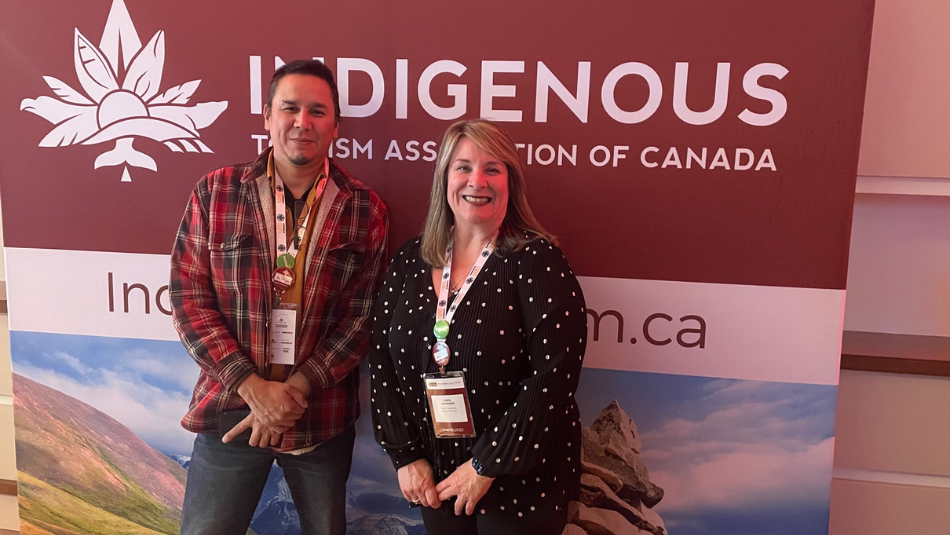 Three years ago, Dave Smith never imagined he would quit his 20-year career working in an office to enter the world of tourism. But today he is on a journey of self-discovery, sharing his Indigenous roots, in an effort to bring cultural awareness to the Saint John Region.
In 2022, through the support of his friend and business partner, Gail Bremner, First Nations Storytellers was born, and one year after its inception the team is making their mark, creating economic opportunities for Indigenous people in New Brunswick and fostering an understanding of Indigenous culture through storytelling
Gail's background is in tourism, and during the pandemic she reflected on what was missing in the province. Although Dave never pictured himself in his current storytelling role, Gail encouraged him to step outside his comfort zone.
"I'm learning my own culture, as it was taken away from me when I was one," Dave shares. "I lost the language, family, traditions – everything, but now, I'm learning it all."
Dave has a unique point of view on Indigenous culture from growing up outside the First Nations community due to the Sixties Scoop, a period in which a series of policies were passed in Canada that enabled authorities to take, or "scoop up," Indigenous children from their families and communities for placement in foster homes, from which they would be adopted.
When he speaks about how he has evolved since beginning First Nations Storytellers, it is evident that he has gone through a transformative experience – an experience that is displayed through his work today.
Dave explains how he brings his audience on the journey with him. "Every day the story gets just a little bigger, it grows more branches."
"Dave has an uncanny ability to disarm people," explains Gail. "Storytelling can mean a lot of things to different people. At the end of the day, it's education through his own story or cultural stories that he has learned."
There is a special moment Dave experiences when at work, and it's what keeps him wanting to reach more people.
"I see that their eyes change," he says. "They're sitting there as part of an audience, and there becomes a point where their eyes get a little twinkle – a little something that wasn't there before. That's why I do it."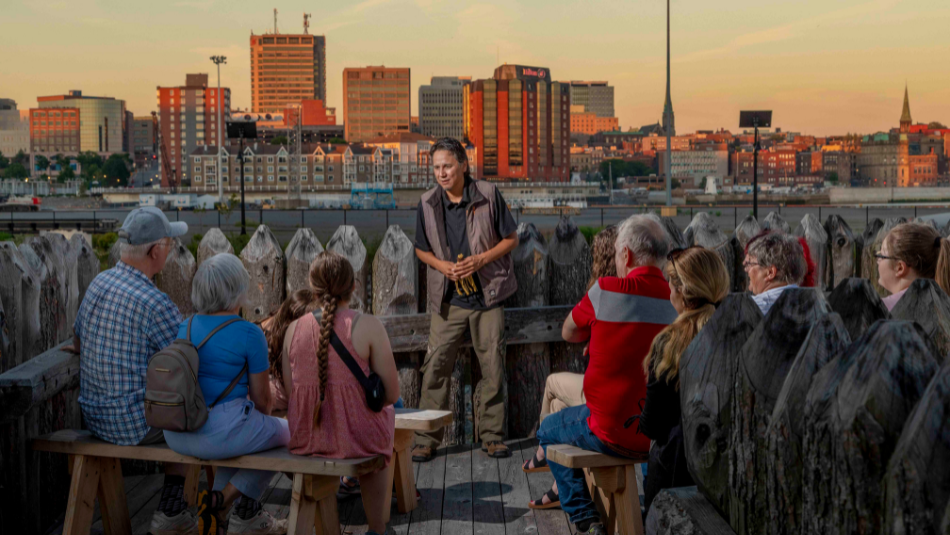 Beyond offering a new tourism product to the Saint John Region, First Nations Storytellers is building community for residents as well. Working with organizations like the Boys and Girls Club, YMCA, and a partnership with the Department of Education, has allowed Dave to tell stories in 40 classrooms to date.
The organization is also adding to the Saint John Region's history of firsts, becoming the first Rainbow Registered operator in the Saint John Region – an accreditation that includes a set of standards to ensure business owners are offering safe and inclusive spaces.
First Nations Storytellers is also the first operator in the Saint John Region to receive The Original Original recognition – a mark that showcases a business is 51 per cent Indigenous owned, embraces the values of Indigenous tourism, and offers a visitor or export-ready experience.
2023 brings growth to First Nations Storytellers as well, with the addition of a second Indigenous Storyteller, allowing them to expand their reach. For Dave, the support is moving their business forward from an operational standpoint, but it's the broader strokes that will continue to move the region forward.
"I want to bring the people back into the city, gather them together, and be really visible," Dave shares. "I want people to know we're still here. If that means we're doing kayak tours, or we're doing overnights, that's all on the table."
April 24-30 is Tourism Week in Canada. To learn more about First Nations Storytellers and the products they offer tourists and residents in the Saint John Region, click here.
Related Post