New Web Development Program Partnership Connects Young People to Workforce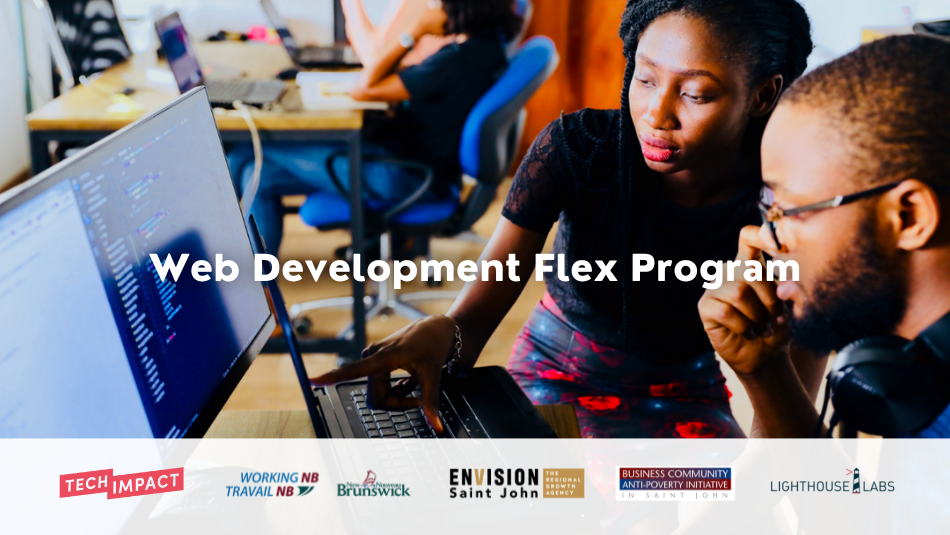 Supporting Youth in the Saint John Region
For more than 20 years, the Business Community Anti-Poverty Initiative (BCAPI) has been a catalyst for change by using the skills of its members to support community initiatives that reduce generational poverty.
Through purposeful research, data collection, and community collaboration – initiatives are rolling out today that aim to shift generational poverty statistics and provide long-term solutions.
The Web Development Flex Pilot Program is one initiative that is working to create this necessary shift. A 30-week training program targeted to youth between the ages of 18-29 who are not currently employed, in post-secondary education or a training program, the Web Development Flex Program aims to accelerate career opportunities by providing specialized tech skills. This pilot will prepare candidates for in-demand positions, such as web developers, and will provide a scheduled, highly structured learning environment, with experienced instructors guiding the students from start to finish.
The initiative is being led by TechImpact who has partnered with BCAPI, WorkingNB, Envision Saint John: The Regional Growth Agency, and Lighthouse Labs. The collective is currently recruiting young adults aged 18-29 in the Saint John region.
"Young people who may have experienced barriers to employment will graduate with job ready IT skills and real-life work experience," explained Heather Libbey, VP of Envision Saint John. "Programs like this provide a gateway for long-term employment."
Part of Envision Saint John's role is to support transformational growth opportunities through the agency's core services – one of which is metrics and measurement. An economic impact report was created based on the Web Development Flex program generating meaningful employment for up to 20 young adults, which determined $1,480,360 in GDP for New Brunswick. This data helped secure the support needed to bring the Web Development Flex pilot to life.
According to a report commissioned by BCAPI, one in seven youth in Saint John, aged 15 to 24, are not employed, or in an educational or training program. This is significantly more than the Canadian average of one in 11. With high levels of young people not connected to education, training or employment, an estimated 1,400 in the Saint John region are at risk for long term economic and social difficulties, continuing the cycle of poverty.
"Experiential learning is crucial to participants success as this is an introductory level program and students need their first place to grow and develop," explained Cathy Simpson, CEO of TechImpact. "This training program and the commitment from employers provides the hands-on learning experience that will prepare the students for today's workforce."
Applications are now open for those 18-29 who are not currently employed or enrolled in an education and training program. Full tuition support is available for those who qualify. Learn more and apply today here.
Related Post