The Perfect Recipe for Growth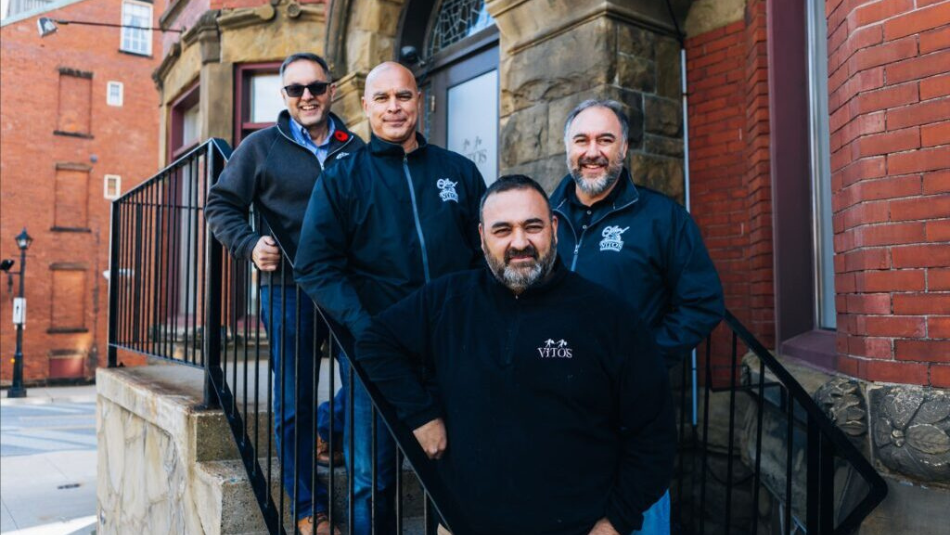 The Vito's Story
If you hear the name Vito's many things come to mind. You may have a sudden desire for their signature pizza or family favourite comfort food. Maybe you think of the long legacy of hockey teams and community support – like their annual spaghetti night in support of the Saint John Regional Hospital Foundation. Or perhaps it's a memory of you and your friends enjoying KV MusicFest. According to "Big George", who is not the biggest but oldest of the George Georgoudis men, Vito's is more than a business – it's a family that has built a life in the Saint John Region and continues to grow more than 50 years after their new beginning.
The story dates back to the arrival of the Georgoudis brothers to Canada in the 50s and 60s – immigrating from their small village in Greece. Arriving and working various jobs in Montreal, they would travel to New Brunswick for hunting season, and fell in love with the Maritimes. The oldest brother, Costa realized that pizza hadn't become a staple on the east coast and saw an opportunity. More than 50 years later and Vito's is now a staple in many family homes.
On a bright December day George and his cousin Michael Georgoudis sit at a table in their uptown location, near the kitchen, with a big bag of Romano cheese.
Michael laughs at the visual of cheese being the focal point of this story and moves the bag into the kitchen – describing how a wheel of Romano is imported from Italy to the restaurant. The team then grinds it themselves making it one of the special ingredients, which keeps people coming back for more.
There is a unique camaraderie among the cousins – it's clear there is a strong friendship, but also a passion for what they do and for the community they serve.
As the next generation – they each use their strengths to continue growing and adapting. Whether Michael is working in the kitchen on the operational side of things or Big George is dreaming the big ideas – together – the entire family makes a recipe for success.
Throughout the years there have been many challenges, but like the rest of the world, the pandemic brought a new set of obstacles.
"I call it the great reset," explained Big George. "An opportunity as a family to really think about our strengths and weaknesses."
The cousins share how they felt like their backs were against a wall but came out punching instead of waiting to see what would happen.
"It is moments like that where you see your inner strength," Big George said.
When they had to shut down dine-in service due to the pandemic, Big George explains how the company needed 'stick handle' to deliver their services to the community. Innovative initiatives like the implementation of the Truckload Sale launched, providing restaurant quality food for people to make at home. Vito's online ordering system for takeout also supported the shift in business, with an increase in e-commerce sales.
And Michael and Big George highlight how it is their fathers' and uncles' work ethic and approach to life that keep them focused on what's next.
Today, beyond the restaurants, the "Georgeoudis Brothers" brand of products are available at Costco in Saint John and Fredericton – a tribute to their heritage and family legacy.
Vito's KV MusicFest will celebrate its 17th anniversary in 2023. The event is yet another example of community collaboration and support – with proceeds supporting local charities such as Bobby's Hospice.
The Vito's story is not only a story of growth, but also a leading example of the people and places within the Saint John Region that are Always Moving Forward.
"We have taken the torch from our family and we're trying to continue to improve on that torch," Big George said. "Hopefully, we've done a good job with it."
Related Post